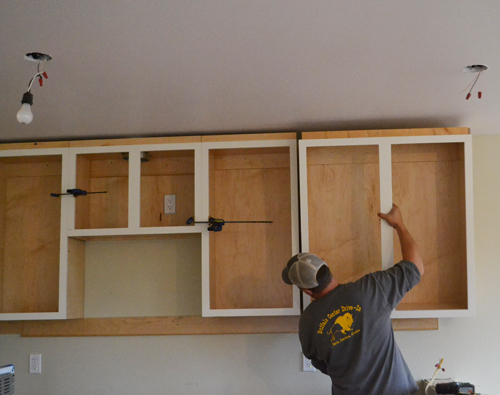 Cabinet and Countertops
Many people want a new kitchen, but they don't know that there are EASY ways to do things, and HARD ways to do things. Many times, when we start planning out a budget, we look at different options, and consider all the alternatives.
Looking at a product like Rust-Oleum 'Cabinet Transformations' we can quickly change the whole appearance of your kitchen without replacing the existing investment. Many people in this area want to ReUse and Recycle existing Cabinets. We know that there are many options available that can fit a budget of ANY size!
Are you in desperate need of more storage space in your living room, family room, dining room, or elsewhere in your home? If you need a whole lot more storage capacity than a simple console table can provide, but not enough room for a bulkier furniture piece like a sideboard or buffet, try a functional yet stylish storage cabinet or accent chest.
Storage Cabinets & Accent Chests
Accent cabinets and chests provide an unmatched combination of functional storage and stylish good looks, letting you shop for the features you care about, like an accent cabinet with doors in a style that meshes with your existing décor. Whether you're hoping to find a living room cabinet that can showcase your family photos and travel mementos or need some more storage room in an already crowded apartment, Joss offers any number of small cabinets and accent chests that let you express your unique style but still get the job done.
While the distinction between chests and cabinets is often misunderstood, cabinets generally feature doors that conceal inside shelving while chests contain pull out drawers for storage. The line between chest and cabinet can oftentimes become murky with furniture pieces that stack door-concealed shelving atop drawers or vice versa. Alongside your standard chests and storage cabinets with doors, you can also find any number of decorative cabinet and chest designs, including apothecary, basket storage, bombe, and Demilune. Whether you're looking for an elegant bombe chest or perhaps browsing through our selection of classic lingerie chests, our selection covers the full spectrum of large mirrored chests and small cabinets alike. Add a touch of elegance to your space with a new accent chest or decorative storage cabinet with doors today!
Storage Cabinet & Accent Chest Materials & Finishes
While your chest and cabinet material choices are largely confined to wood or metal, the range of color finishes that you can shop from Joss and Main's selection for is impressive. From sleek, black living room cabinets that appeal to those with a modern furnishing style, to more rustic chests with walnut or oak finishes, you can pinpoint the right accent cabinet or chest for your furnishing and décor style. To quickly browse Joss' color selection, just sort by brown, black, white, gray, blue, silver, and even more furniture finish options.